A BUSINESS PLAN FOR THE COMMONWEALTH
Blueprint Virginia is a comprehensive initiative to provide business leadership, direction and long-range economic development planning for Virginia. Over eighteen months from 2013 to 2014, the Blueprint process engaged business and community leaders from around the Commonwealth to determine top priorities for strengthening Virginia's economic competitiveness.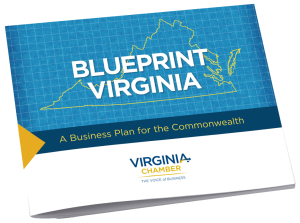 Regional briefings were held in more than 30 communities where hundreds of Virginia citizens voted on priority issues for their region and the state. We collaborated with more than 300 organizations and over 7,000 participants to develop Blueprint Virginia: A Business Plan for the Commonwealth that provides our elected officials and private sector leaders the tools to improve our competitiveness and long-term prosperity.
Blueprint Virginia serves as the basis for the Virginia Chamber of Commerce's Legislative Agenda, and the Chamber produces an annual report card to inform Virginians how their legislator voted on policies that will improve Virginia's economic climate.
To improve our competitive business climate, the Chamber has identified fundamental principles for success in key areas such as education, workforce training, economic development, transportation, health care, technology and innovation, energy, manufacturing, environment and military and veterans affairs. We believe that we can in fact stimulate the economy, create new jobs and make Virginia the best place to live, work and do business. These objectives are embodied in this publication.
View of a copy of Blueprint Virginia here.