The Virginia Chamber of Commerce releases an annual Legislative Report Card, which grades legislators based on their support of pro-business issues during the General Assembly session. The Legislative Report Card recognizes legislators for their support for the principles and initiatives outlined in Blueprint Virginia: A Business Plan for the Commonwealth.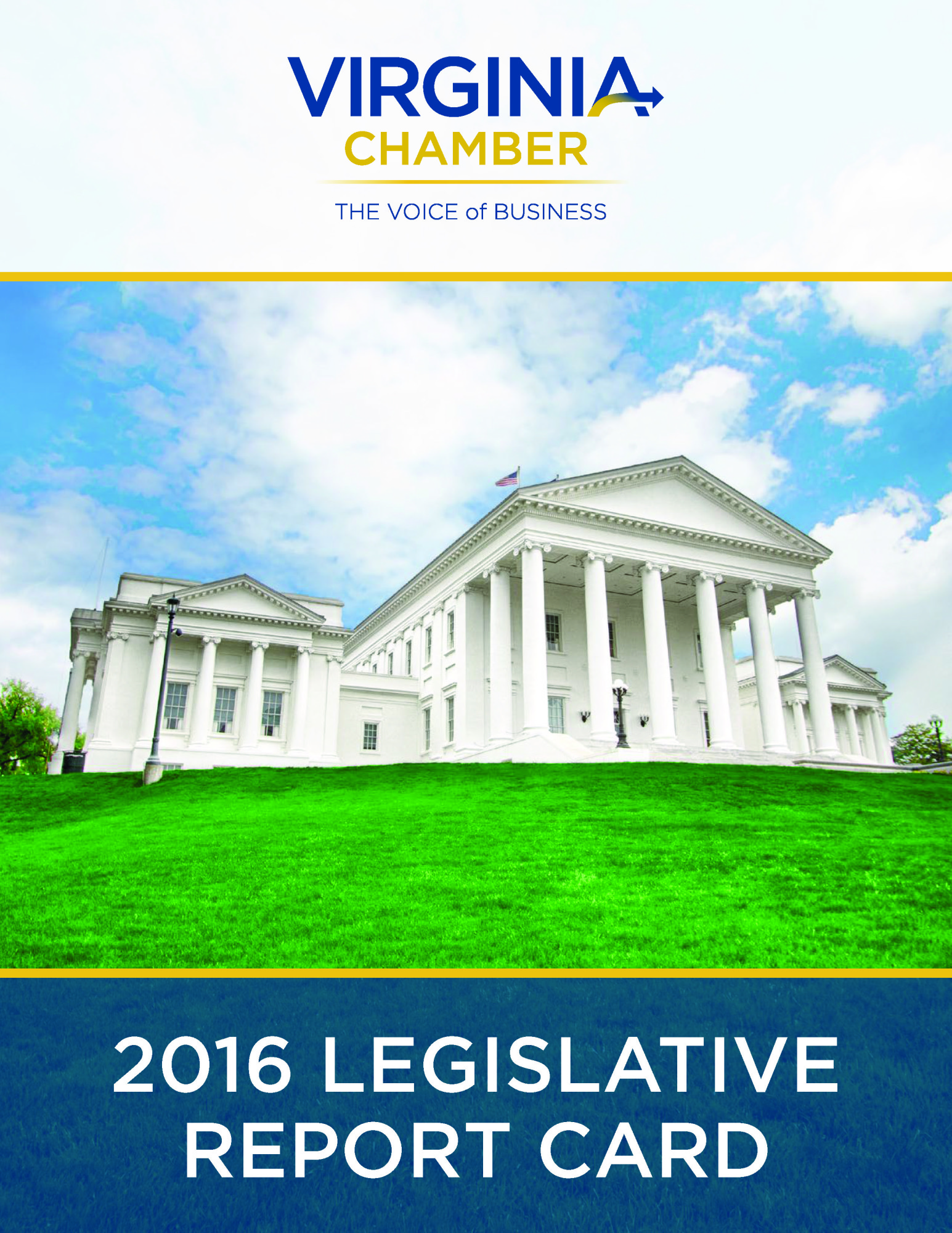 In the 2016 session, the Virginia Chamber had a 95 percent success rate on its legislative priorities. A full breakdown of the 2016 report card with grades and a detailed description of each award is available here.
The Virginia Chamber this year tracked more than 600 pieces of legislation and rated 125 bills that would either improve or harm Virginia's business climate," said Barry DuVal, president and CEO of the Virginia Chamber of Commerce. "We applaud those legislators who advanced the goals of the Chamber's Blueprint Virginia this year and in doing so made Virginia a better place in which to live, work and do business.
Now in its fifth year, the 2016 legislative report card includes for the first time legislators' lifetime grades along with their grades for the most recent legislative session.
Delegate Steve Landes (R-Weyers Cave) was named the 2016 Legislator of the Year. The Virginia Chamber's Legislator of the Year Award is the business community's premier legislative award honoring the lawmaker who demonstrates outstanding leadership on pro-business issues.
The following legislators are also recognized for their leadership in specific areas. A description of each award is available in the full report card.
Champions of Free Enterprise

Sen. Charles Carrico
Sen. Bryce Reeves
Sen. Glen Sturtevant
Del. Richard Bell
Del. Glenn Davis
Del. Scott Garrett
Del. Keith Hodges
Del. Barry Knight
Del. Steve Landes
Del. Scott Lingamfelter
Del. John O'Bannon
Del. Chris Peace
Del. Roxann Robinson
Del. Chris Stolle
Del. Ron Villanueva
Chairman's Award for Champion of Free Enterprise
Del. Barry Knight
Business Advocate of the Year
Del. Kirk Cox
Freshman Legislators of the Year
Sen. Glen Sturtevant
Del. Chris Collins
Excellence in Workforce Development

Sen. Kenneth Alexander
Sen. John Miller
Sen. Frank Ruff
Del. Kathy Byron
Excellence in Education
Sen. Mark Obenshain
Del. Rob Bell
Del. Tag Greason
Champion of Regulatory Reform
Del. Margaret Ransone
Del. David Yancey
Economic Competitiveness Award
Sen. Janet Howell
Sen. Tommy Norment
Sen. Frank Ruff
Sen. Dick Saslaw
Del. Kirk Cox
Del. Tim Hugo
Military and Veterans Advocate Award
Sen. George Barker
Del. Chris Stolle
Small Business Advocate Award
Del. Chris Head
---
Past Legislative Report Cards