The Virginia Chamber of Commerce releases an annual Legislative Report Card, which grades legislators based on their support of pro-business issues during the General Assembly session. The Legislative Report Card recognizes legislators for their support for the principles and initiatives outlined in Blueprint Virginia: A Business Plan for the Commonwealth. Now in its sixth year, the 2017 legislative report card also includes lifetime grades along with the grades for the most recent legislative session.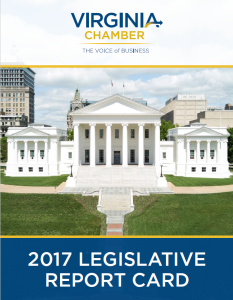 "We made significant progress this legislative session on issues that impact Virginia's business climate, particularly in the area of education and workforce development," said Barry DuVal, president and CEO of the Virginia Chamber of Commerce. "We applaud members of both parties who took action on priorities in the Chamber's long-term Blueprint and put us on track for long-term economic growth."
Senator Bill Stanley (R-Moneta) was named 2017 Senate Legislator of the Year and Delegate Tim Hugo (R-Centreville) was named 2017 House Legislator of the Year. The Virginia Chamber's Legislator of the Year Award is the business community's premier legislative award honoring the lawmaker who demonstrates outstanding leadership on pro-business issues.
Speaker Bill Howell (R-Stafford) was also honored with a Lifetime Achievement Award, recognizing his thirty years of service in the General Assembly and his support of policies that encourage growth and competitiveness.
The following legislators are also recognized for their leadership in specific areas. A description of each award is available in the full report card at https://www.vachamber.com/wp-content/uploads/2017/05/Virginia-Chamber-of-Commerce-2017-Legislative-Report-Card.pdf
Champions of Free Enterprise
Senator Bill DeSteph
Senator Ryan McDougle
Senator Mark Peake
Senator Frank Ruff
Delegate Rich Anderson
Delegate Terry Austin
Delegate Rob Bell
Delegate Kathy Byron
Delegate Kirk Cox
Delegate Scott Garrett
Delegate Todd Gilbert
Delegate Tag Greason
Delegate Rocky Holcomb
Speaker Bill Howell
Delegate Riley Ingram
Delegate Chris Jones
Delegate Barry Knight
Delegate Steve Landes
Delegate Danny Marshall
Delegate Jimmie Massie
Delegate Jason Miyares
Delegate John O'Bannon
Delegate Bobby Orrock
Delegate Brenda Pogge
Delegate Charles Poindexter
Delegate Roxann Robinson
Delegate Chris Stolle
Delegate Tony Wilt
Delegate David Yancey
Excellence in Education and Workforce Development Award
Senator Siobhan Dunnavant
Senator Mark Obenshain
Senator Chap Petersen
Senator Frank Ruff
Delegate Dickie Bell
Delegate David Bulova
Delegate Eileen Filler-Corn
Delegate Tag Greason
Delegate Steve Landes
Champions of Regulatory Reform Award
Senator John Edwards
Senator Bryce Reeves
Delegate Chris Head
Delegate Chris Peace
Delegate Margaret Ransone
Delegate Lee Ware
Defender of Free Markets Award
Delegate Kathy Byron
Economic Competitiveness Award
Senator Emmett Hanger
Delegate Matthew James
Advancement of Technology and Innovation Award
Senator Ben Chafin
Senator Bill DeSteph
Delegate Glenn Davis
Delegate Terry Kilgore
Delegate Todd Pillion
Delegate Ron Villanueva
---
Past Legislative Report Cards