The Virginia Chamber of Commerce releases an annual Legislative Report Card, which grades legislators based on their support of pro-business issues during the General Assembly session. The Legislative Report Card recognizes legislators for their support for the principles and initiatives outlined in Blueprint Virginia: A Business Plan for the Commonwealth.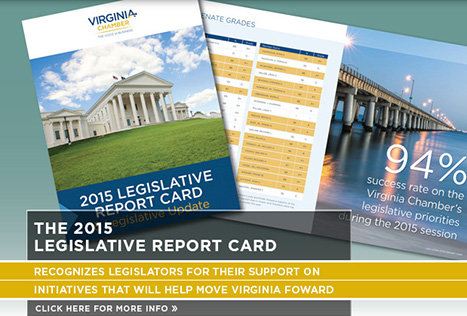 In the 2015 session, the Virginia Chamber had a 94 percent success rate on its legislative priorities. A full breakdown of the 2015 report card with grades and a detailed description of each award is available here.
"The Virginia Chamber of Commerce's annual Legislative Report Card allows us to recognize lawmakers whose leadership and voting records make Virginia a better place to start and grow a business," said Barry DuVal, president and CEO of the Virginia Chamber of Commerce. "We are particularly pleased with the bipartisan progress made this session to improve education and workforce development, the top priority in the Blueprint Virginia business plan for the Commonwealth."
This year, nine legislators were awarded with the Champion of Free Enterprise Award for their 100% voting record and 83 legislators earned a grade of "A," voting in support of 90 percent of the Chamber's legislative priorities.
Senator Ryan McDougle (R-Hanover) was named the 2015 Legislator of the Year. The Virginia Chamber's Legislator of the Year Award is the business community's premier legislative award honoring the lawmaker who demonstrates outstanding leadership on pro-business issues.
The following legislators are also recognized for their leadership in specific areas:
Champions of Free Enterprise
Delegate Rob Bell
Delegate Ben Cline
Delegate Mark Cole
Delegate Todd Gilbert
Delegate Greg Habeeb
Delegate Chris Head
Delegate Barry Knight
Delegate Charles Poindexter
Delegate Ed Scott
Excellence in Education and Workforce Training Award
Delegate Rob Bell
Delegate Kathy Byron
Delegate Tag Greason
Senator Mark Obenshain
Senator Frank Ruff
Military and Veterans Affairs Advocate Award
Delegate Rich Anderson
Senator John Cosgrove
Delegate Kirk Cox
Senator Louise Lucas
Senator Toddy Puller
Delegate Chris Stolle
Delegate David Yancey
Business Advocate of the Year
Delegate Israel O'Quinn
Leadership in Energy Award
Senator Frank Wagner
Economic Competitiveness Award
Delegate Glenn Davis
Delegate David Ramadan
Small Business Advocate Award
Delegate Glenn Davis
Senator John Edwards
Delegate Chris Head
Delegate Scott Taylor
Senator Frank Wagner
Delegate Joseph Yost
Champions of Regulatory Reform
Senator Tom Garrett
Delegate Chris Head
Delegate Margaret Ransone
---
Past Legislative Report Cards